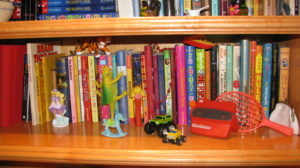 I've been thinking about how we come to books in different ways. I've picked up books for their covers and bought them (or checked them out from the library) because of their flap copy. There have been days when I've needed something to read fast and have opened whatever happened to by lying around the house. I've read a lot of books because they've been assigned, either in school, for a workshop, or with my long, lost Best Book Group Ever. I suppose most books find themselves in people's hands because of referrals by friends, colleagues, bookstore personnel, kids, librarians, and teachers (and, yes, I'd technically categorize assignments as referrals).
Never once, though, have I read a book because my brother's wife's brother's wife's father's wife's nephew—I think that's the connection—not only wrote it, but was fortunate enough to be edited by my editor for The Seventh Level.  And that editor wonderfully sent me a copy.
Full disclosure: Except for that act of kindness, I was neither compensated for nor was expected to write a review. Other than the above connection to the author, I do not know him and it took a tiny bit of digging to find out we had the same editor. We're not even friends on Facebook, though if he's on there, I might need to remedy that. Anyway, this is all me and self-motivation. 🙂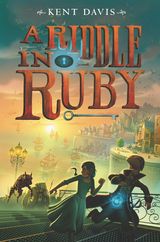 A Riddle in Ruby by Kent Davis, classified as middle grade, has enough substance and action and wonderful world-building to hold the rapt attention of older kids as well. Don't rule this out for your lover of YA fantasy/action/adventure. Set in an alternative version of colonial Philadelphia, one filled with alchemy (you've gotta love alchemy, right?), pirates, kidnappings, secrets; and led by a main character with enough smarts and guts and spunk to populate a small nation, A Riddle in Ruby kept me on the edge of my seat for the entire amazing ride.
In short (and because I'm lazy and/or in the deep throes of a revision that's turning half my brain to mush), here's a bit more plot from the publisher's website:
Ruby Teach, daughter of a smuggler and pirate, has been learning how to swindle and steal and pick the most complex locks for as long as she can remember. But a collision with aristocratic young lord Athen sends her spinning into chaos. Little did she know that her whole life has been spent in hiding from nefarious secret societies and the Royal Navy . . . who are both now on her trail.
Apparently, my editor will be thrusting me back to the edge of my seat. Book 2 releases, I just now discovered, September 27. I'd better finish this revision fast. September 27 may be my new deadline.
This is all part of the continuing, multi-blog review group started by the very fun and wonderful Barrie Summy: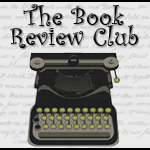 Click icon for more
book review blogs
@Barrie Summy