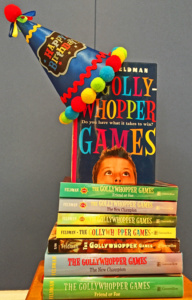 To celebrate 10 year of The Gollywhopper Games
and to thank
teachers
& librarians
& media specialists
& parents
& especially readers
for joining in the fun of the story,
let's bring on some prizes!
I'll be drawing 10 names from all entries received by 11:59 CST, February 28.
GRAND PRIZE (1 winner):
A Gollywhopper Games challenge designed especially for you
(or instead, your choice of all the prizes below)
OTHER PRIZES:
   * Class set* of The Gollywhopper Games (2 winners)
   * Free Skype visit or in-school visit if local** (2 winners)
   * All three books in The Gollywhopper Games series (5 winners)
To enter, send an email with your contact info to GollywhopperGames@gmail.com
or provide you info in the comment section below.
Want a double chance to win?
Simply list the 3 titles in The Gollywhopper Games series with your entry.
Thanks for all your support these 10 years!
And good luck!
*Class set = maximum of 25
**Local = within a 150-mile radius of St. Louis, Missouri