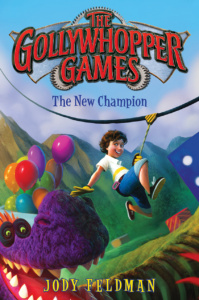 THE GOLLYWHOPPER GAMES Series
Jody Feldman's popular, award-winning novels about a group of kids playing the Gollywhopper Games—the fiercest toy company competition in the country—will appeal to fans of The Amazing Race and Charlie and the Chocolate Factory!
THE GOLLYWHOPPER GAMES: The New Champion
Some people are born winners, but Cameron definitely isn't one of them.
So what is Cameron even doing in the second Gollywhopper Games? Solving puzzles. Performing stunts. Racing against the clock, that's what. But it's not as if he has a real chance at walking away with the one million dollars. Or instant fame. Or eternal bragging rights.
But he—not Spencer, his older brother—is the one competing against 999,999 kids on national TV, inside a giant toy factory. Cameron knows he won't be the winner. But Cameron doesn't know everything … right?
Want to read a sample? Click here!