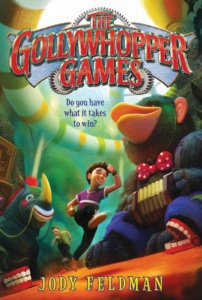 THE GOLLYWHOPPER GAMES Series
Jody Feldman's popular, award-winning novels about a group of kids playing the Gollywhopper Games—the fiercest toy company competition in the country—will appeal to fans of The Amazing Race and Charlie and the Chocolate Factory!
THE GOLLYWHOPPER GAMES
Gil Goodson's future happiness depends on winning Golly Toy and Game Company's ultimate competition. If Gil wins, his dad has promised the family can move away from all the gossip, false friends, and bad press that have plagued them ever since The Incident.
Gil has been studying, training, and preparing for months, and once he makes it through the tricky preliminary rounds and meets his teammates, the competition gets tougher. Brainteasers, obstacle courses, mazes, and increasingly difficult puzzles and decisions—not to mention temptations, dilemmas, and new friends (and enemies)—are all that separate Gil from ultimate victory. Does Gil have what it takes to win? Do you?
Want to read a sample? Click here!