Our New Principal
By: Emmett, MacKenzie, and Andrew
Photographer: MacKenzie and Andrew
Editor: Ivy
When Mrs. Bare, the new principal arrived, the people of Gordon were wondering if this change would feel natural after the former principal, Mrs. Harris, retired. Mrs. Bare was excited to hear when she was chosen as the new principal of Gordon Elementary School. She heard that Gordon was a stupendous school and she wanted to help make a difference. Mrs. Bare wanted to become a principal because she didn't want to be doing the same thing everyday, continuously, day after day after day. Her former experiences teaching second and third grade helped her to become the principal. Her family and friends motivated her to become principal. Gordon is the luckiest school in all of Chesterfield County!

Military Police Officer Joins Gordon Staff
Author: Mackenzie, Ava, and Emma
Editor: Ivy Brown
Mr. Almond is our new custodian and an ex-military officer. He was in the military for 27 years and worked as a track mechanic. Mr. Almond was also a military police officer. He says his experience was outstanding. He chose to be in the military because he wanted to do something for his family. Mr. Almond went to the country Iraq, and he was never scared of doing his job there. When he came to Gordon and became a custodian, he developed a love of helping people. All of Gordon is glad to have Mr. Almond here helping us!
Poetry
Poems by Isla
Noses are red,
lips are blue,
I'm going home
how about you?
Yes it is he!
Santa Claus!
and he's puttin' gifts 'round the tree!
As I look at him with glee
he turns around and spots me!
I am taken to the sleigh
and whisked to the north pole without delay!
Julianne's Colorful Culture
Author: Eva
Editor: Isabelle
Photographer: Piper
Julianne, a 5th grader in Mrs. Everett's class, enjoys basketball, running club (see more about running club on sports and clubs), and is in a girl scout troop. We did an interview with her on her Chinese culture. When asked about how her Chinese culture affects her daily life, she replied by saying "We eat at a lot of Chinese dishes, some of which, we have to get used to." She added that her daily life is especially exciting. Then we asked her who in her family lives in China. Julianne surprised us by saying that all of her mom's side lives there! Next, we asked her about her unique Chinese events. For Chinese special events, she wears traditional colors, red, gold, and silver, and they have a collared neck and a buttoned shirt. They are called a tunic suit. She told us that she celebrated Chinese new year, the Moon Festival, and many other fun traditions. She also said that when someone has a birthday, they receive a red envelope filled with money. Julianne mentioned that they are called hung-bow. Another thing we asked her was if she had ever visited China. She replied, "Yes, two times.". She mentioned that there is an area in China called the Forbidden City. It is a very beautiful place with astounding Chinese architecture. As you can see, Julianne has a very interesting culture that enriches Gordon.
Book Review
The Gollywopper Games
by Lucy, 5th grade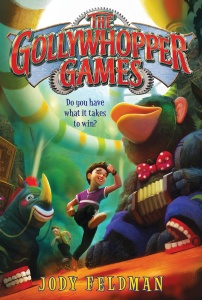 The Gollywopper Games is a exiting story about a boy named Gil Goodson . Gil's dad is believed to have attempted thievery, so Gil decides to compete in the 50th annual Gollywopper Games! If he wins his dad has promised to let them move away from all the gossip. Do you think he has what it takes to win? Read the book to find out!
Thanks for Taking Over, W.W. Gordon!