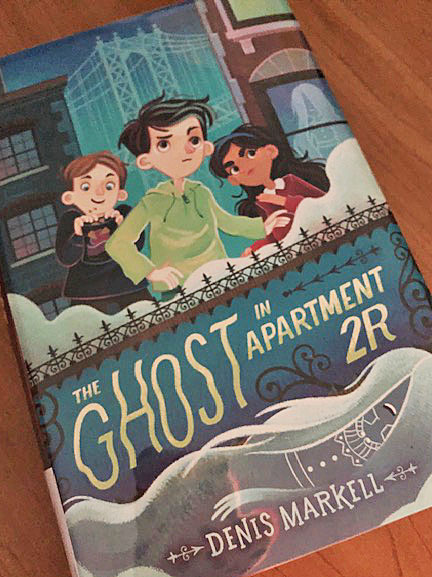 Here's a middle grade novel that scared me even before I read it. The Ghost in Apartment 2R by Denis Markell (Delacorte Press 2019). It's not that the title or the thought of ghosts freaked me out. No. I blanched because I recently finished a full 70,000-word first draft of a book, and the concept of Markell's story seemed way too close for comfort.
I ran right out to get a copy. Then it sat on my table for one day. For two. I circled it again. Again. Finally, I grew the guts to pounce. I'm happy to report that I'm not writing the same book. I'm nearly as happy to report that this is a fun, approachable, conversational read with much to love.
Danny swears there's a ghost in his apartment. His parents and his friends swear it's an emotional reaction to changes in his life. His brother has left for college, and Danny's parents had always promised he'd get to move from his literal closet of a bedroom – and yes, he's heard all the Harry Potter jokes – to his brother's room when that happened. But when his parents decide to rent out the bedroom to make more money for college expenses, that's when the (maybe) ghost starts showing up.
While readers will root for Danny's attempts to convince his friends and parents to believe in his ghost, it might be the setting that wins us over the most. This ghost story is also a love letter to Brooklyn and its cultural richness history. All the sights and sounds and smells and tastes come fully alive and have me craving to revisit Brooklyn – specifically, the area where Danny lives – the next time I come to NYC.
It's all so real. So are the characters and the relationships – both peer-to-peer and cross-generational. Denis Markell has wonderfully captured the varied and interesting and quirky personalities that make this book stand out.
I picked up The Ghost in Apartment 2R, hoping I'd read something different. I did. And I'm glad, for me, but especially for the readers.
Click icon for more
book review blogs
@Barrie Summy