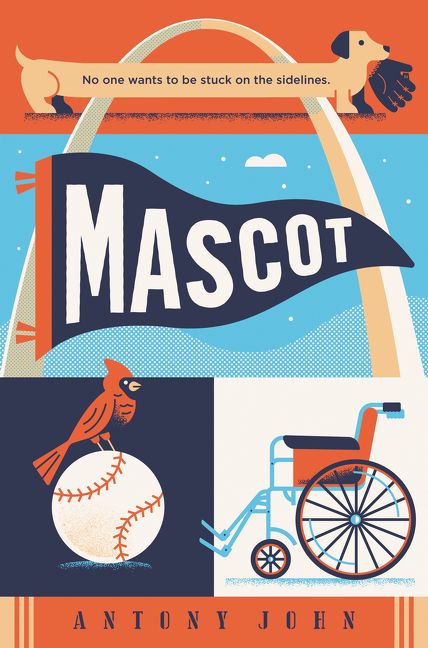 I can't quite remember how I met Antony John. It was at some local writer's get-together, I believe. Sure. Let's say that was it. And it definitely was at the beginning of both of our writing/author careers. I may have cheered as loudly as his closest family and friends when he won the Schneider Family Book Award for his outstanding YA Five Flavors of Dumb.
Then one day, two or three years ago (time flies, you know?), he asked if I would read a draft of his first foray into middle grade fiction, give him feedback. I didn't pause. Of course, I would. I'm a sucker for his characters and their amazing senses of humor. (Reflects the author. Truly.)
I say this all so that you know that I was a big fan of MASCOT even before his edits, even when the dog was farting too much. I was a big fan before any editor saw it. And now, the story is even better.
Meet Noah Savino. He doesn't really know his life anymore. In his old life, he was starting catcher on one of the best little league teams in St. Louis, he was tight with Logan Montgomery and the core of that team, and he could stand. Following a car accident that killed his father,  he's stuck in a wheelchair, and everyone (except maybe Alyssa Choo) looks at him with pity. And here in 7th grade, there's this new kid, Double-Wide (which accurately describes his size and the amount of info he shares), who has latched onto him.
WAIT. Don't think this is one of those depressing books, not even if I go into Noah's issues with physical therapy, his mom's new relationship, and the neighbor who couldn't be more unfriendly. MASCOT is filled with laugh-out-loud moments, and feel-good ones, too, as it follow Noah's struggles to forge a life where he's not stuck on the sidelines anymore.
All right, Antony, hurry up with that next book!
Click icon for more
book review blogs
@Barrie Summy