If you've ever sat with a bird's-eye view at any sporting event–and today, let's call it a soccer game–you've probably witnessed players from different teams and from all parts of the field converging on the ball. Maybe you predicted who'd get there first or noticed a player who was sure s/he'd get the next kick, only to have another player swoop in and change the course of events. Up there, you're seeing it unfold before the players can.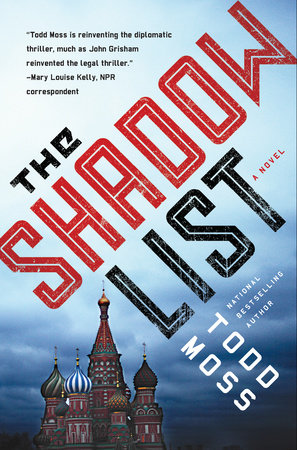 I kept picturing that type of scenario as I read The Shadow List (G.P. Putnam's Sons, 2017), a fast-paced diplomatic thriller. As former Deputy Assistant Secretary of State, the author Todd Moss has an extraordinary feel for the inner workings of all the different factions which find themselves converging on this international ball of intrigue.
(Just a note before I go on: I usually review kids' books. This one was written for adults.
Now that we have that clear, on with the plot.)
State department crisis manager Judd Ryker has been temporarily taken off his strategic planning assignment surrounding oil grabs in the South China Sea to travel to London, then Nigeria, to look into the disappearance of a young executive who may have succumbed to an online, get-rich-quick scam. Meanwhile, his CIA wife, Jessica, is chasing a master criminal in Russia. "Unknown to either of them, they are pulling at the ends of the same lethal thread, a staggeringly vicious enterprise of piracy, extortion, and murder." (That last sentence from the flap copy because they do it so much better than I can.)
What I really liked about this book, the action and the story never got bogged down in minutia. This is a very fast read, and even with the multitudes of players in the field, Moss makes the unfolding events easy to follow. And keeps you turning pages.
What disappointed me was the fact that I discovered this is the fourth in the Judd Ryker series, If I hadn't known it, however, I never would have realized that I'd missed the personal set-ups. And that's unusual coming into the middle of a series.
I do need to mention, I received this book as an advance copy from the publisher, but I have not otherwise been compensated for this review nor cajoled into writing it. And if you look at my history, I choose only to review books I can recommend.
I recommend The Shadow List. But, if you're like me, I also recommend that you pick up the other titles first, not because you have to, but because you will have wanted to.
This review, brought to you by:
Click icon for more
book review blogs
@Barrie Summy
P.S. If comment section is invisible, click here.