It's holiday time! And present time! (As in gifts.)
For kids, your thoughts might immediately race to toys, games, electronics. And books, of course; funny, colorful picture books for the younger ones, right? Sure, pick some with pigeons or elephants or crayons. But don't forget the ones that pack more than their weight in satisfaction and emotion that comes with what's real and true.
Non-fiction picture books have come a million miles since I was a kid. And these two, particularly, make my eyes well up every time.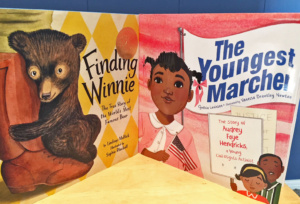 FINDING WINNIE: The True Story of the World's Most Famous Bear
by Lindsay Mattick; illustrated by Sophie Blackall
(Little Brown, 2015)
This title (the title, itself, that is) happened to be perfect for something I needed to include in a book I was writing. So when illustrator Sophie Blackall was signing Finding Winnie at a conference I'd attended, I needed to get a copy. What I didn't know is that I'd love it so much that I haven't stopped recommending it to anyone who will listen. It's a story of World War I and animal rescue; the veterinarian-soldier and the real-life bear who became Winnie the Pooh. And it's the story of family and things coming full circle. I get chills even typing this.
(For a more thorough review, head to Barrie Summy's archives.)
THE YOUNGEST MARCHER: The Story of Audrey Faye Hendricks, a Young Civil Rights Activist
by Cynthia Levinson; illustrated by Vanessa Brantley Newton
(Atheneum Books for Young Readers, 2017)
Especially relevant with today's societal climate, The Youngest Marcher tells the story of Audrey Faye Hendricks, who at 8 years old, felt compelled to take part in The Children's March in Birmingham, Alabama, knowing she would be arrested. Make sure you read through The End to for even more insight into Audrey and the law change that came about through the actions of her and other brave children. Also for the recipe. (Cannot wait to try it!)
This book talk is part of Barrie Summy's Book Review Club. Check it out:
Click icon for more
book review blogs
@Barrie Summy
P.S. If comment section is invisible, click here.