Happy New Year!
I just realized I've yet to review a relatively new series of wonderful and cute and lovely books starring the inimitable Jasmine Toguchi. And what a perfect time! (You'll see why below.)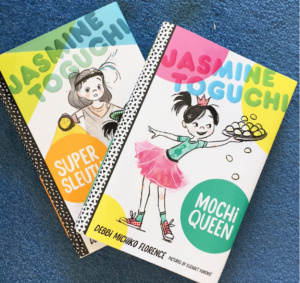 The first book in the series – Jasmine Toguchi: Mochi Queen – centers around Jasmine's determination to be a standout in her family. How? She has special plans to pounds the mochi rice for their New Year's celebration (thus the "perfect time" comment). Here's the problem: traditionally, it's men who do the pounding. Not only is Jasmine a girl, but she's still deemed too young to roll the sweet, sticky rice balls with the women. Jasmine decides to take fate into her own hands, but reaching her goal isn't easy.
I love the way author Debbi Michiko Florence weaves story with tradition, even allowing someone like me to learn a lot while being thoroughly entertained and especially focused on rooting, wholeheartedly, for Jasmine.
In the spirit of full disclosure: I'd been hearing a lot about this book and the series long before it was published. Debbi and I had connected online years ago and have been friends since. That said, I don't often review friends' books. But this one fills such a great space in book-dom, with humor and heart, I'd love to see it be one of those staples on all school library shelves, sitting right next to the other three Jasmine Toguchi books: Super Sleuth, Drummer Girl, and Flamingo Keeper. (The last two will be coming out later this year.)
And now I'm hungry for mochi. I need to try out the Microwave Mochi recipe in the back of the book … to keep the new year's celebration going.
P.S. A shout-out to illustrator Elizabet Vukovic for further bringing Jasmine to life.
P.P.S. To see other reviews, hit the icon below.
Click icon for more
book review blogs
@Barrie Summy
P.P.S. If comment section is not visible,
click here
.