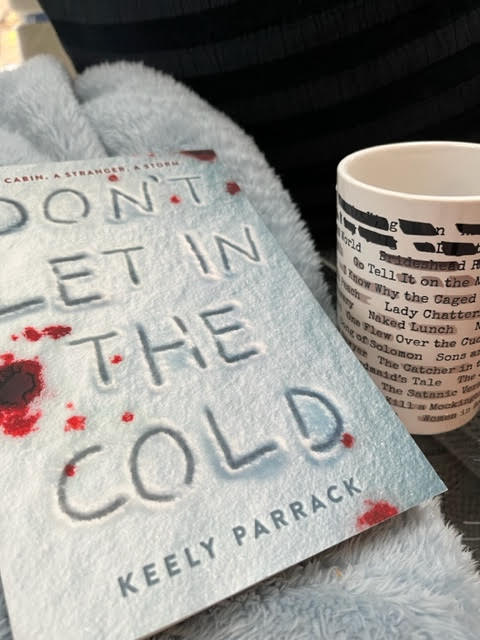 There came a point in reading Keely Parrack's YA thriller Don't Let in the Cold (Sourcebooks) that I found myself huddled under a blanket. Yes, I was dressed for winter. Yes, the heater in the house functioned just fine. It was…
Wait. I should give you a little plot here.
Seventeen-year-old Lottie is being deposited at a remote house in Tahoe to hang out with her new and yet-unmet stepsister while her mother and Jade's father go off on a one-night honeymoon. Lottie does not want to be here but, truly, what could go that wrong? What does go wrong starts with the intrusion of Alex, a cute but suspicious boy; a massive, regional power outage; and the appearance of two guys in a red pickup. Everything feels totally off to Lottie, who should have trusted her inner alarm. For good reason. When an unexpected blizzard hits, she, Jade, and Alex are totally cut off from the world, a fire destroys the house, and not only do they find themselves in a battle of survival against the elements, but also against the two guys in the red pickup who are hunting them down. And not for polite conversation.
In hindsight, these characters make an ill-advised choice to leave the area of the house, but given the circumstances (more than what I've already mentioned), we all might do the same. The really great thing here, as readers, we are in good hands with Keely Parrack's grasp on white-out conditions and what it takes to survive. Or die.
As the characters traipse blindly through the blizzard to find refuge, nothing I can write will allow you to feel the true, bone-depth freezing dangers they face. So, let me suggest that you brew up a vat of a hot beverage of choice, grab a blanket, and read what might have been a buddy road trip story if it weren't so chilling…in all the ways.
Full disclosure: Don't Let in the Cold, along with a wonderful selection of thrillers, was sent to me by my publisher. (This was the first I've read.) And while it happens that one of my editors worked on the book, this isn't a case of me sucking up. To balance that, I will say, Don't Let in the Cold had me a little lost at moments (which, truly, could have been me reading faster and faster to warm up), but understand that I do not review books unless I truly believe they're worth your time. So…
Bottom line: blanket, hot beverage, read.
Click icon for more
book review blogs
@Barrie Summy