…if it hadn't been next in my to-be-read pile. Here's how this book got there:
When this whole quarantine business started, I asked a local bookseller to gather a group of middle grade titles together for curbside pick-up, books that might have flown under my radar. I got that stack home, however, and I discovered that my COVID escape was not in reading, but in writing… and writing… and writing some more. To each our own, right?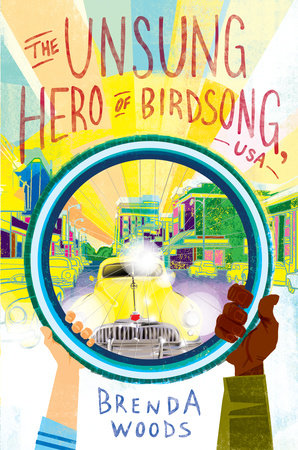 Once again, I'm happy to report that I'm finding great pleasure in reading. And gradually, I'm going through my stack. That's where THE UNSUNG HERO OF BIRDSONG, USA by Brenda Woods comes in.
It's Gabriel's 12th birthday, and along with it comes "a brand-spanking-new Schwinn Autocycle Deluxe with a built-in electric light". He heads to his friend's house to show it off but is so distracted by thoughts of how amazing he must look, he runs a red light. In horror, he can only watch as an oncoming car will inevitably hit him. The next thing he knows, though, he's been pushed to safety by someone named Meriwether. Thus starts a friendship between a white boy and a Black man in 1946 South Carolina. And this starts a powerful story of how the two of them, working in Gabriel's dad's auto shop, form a deepening relationship which, at its height, reveals to Gabriel the ugliness of prejudice and, therefore, why it's so dangerous for Meriwether to talk about his acts of heroism during World War II.
As a New York Times review put it, "[Brenda] Woods casts a much-needed spotlight on the history of African-American troops in World War II, including the all-black 761st Tank Battalion." But it's not just the story that will have you mesmerized. Brenda Woods' voice and sincerity in this Coretta Scott King Honor Book will grab you by the shoulders and lay claim to your heart through to the very end and beyond.
Thanks again to The Novel Neighbor for introducing me to this must-read. Otherwise, I might never have picked it up.
Click icon for more
book review blogs
@Barrie Summy