Here it is. A book that was SO written for me!
There's mystery, intrigue, tons of WHAT THE #@*$ for the main character. Oh, and puzzles! It's a book I would have read and reread as a kid, and I would reread it now, but my To Be Read pile is stacked way too high. Luckily …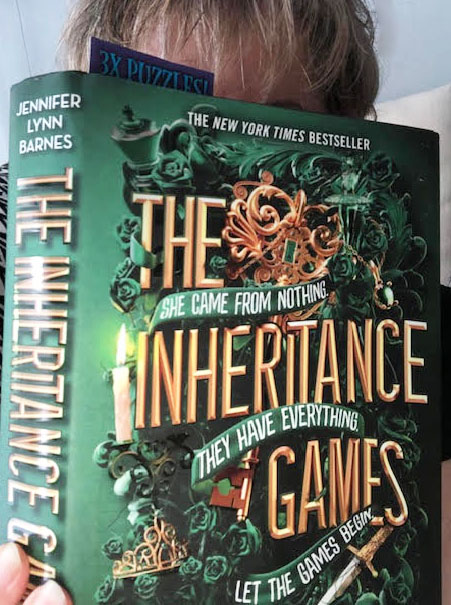 Wait. First, let me tell you about THE INHERITANCE GAMES by Jennifer Lynn Barnes.
High school junior Avery Grambs, whose mother has died and whose father is out of the picture, lives with her older half sister … or she occasionally lives in her ancient Pontiac when her sister's abusive boyfriend come to stay. Avery's strategy – in between shifts at the diner to make ends meet – is to get good enough grades to secure a college scholarship, study actuarial sciences (the closest she can come to major in both poker and math), and carve a better life for herself.
But everything changes when a stranger in Texas – far from Connecticut – dies, and leaves her $46.2 billion… IF she can live for a full year in his enormous, multi-winged mansion with shrouded secrets, hidden passageways, enigmatic messages. And especially with the Hawthorne family, who both expected to be the rightful heirs to the fortune and who suspect that Avery has pulled some sort of con job. It's Avery's new focus to find out why her, what it will take to stay there, and what it will take to stay alive.
I love THE INHERITANCE GAMES for its twisty characters, puzzling challenges, and impending sense of mortal danger. (Did I mention Avery has a bodyguard?) And for so many page-turning details and discoveries that launch you from one chapter to the next. I shouldn't be surprised. Jennifer Lynn Barnes is becoming a favorite of mine for that very reason.
Now, typically, I wouldn't review a book that's already been a New York Times Bestseller, but I'm doing it today because of that word I left dangling – LUCKILY. Luckily, there's a sequel to this book. THE HAWTHORNE LEGACY hit the shelves just yesterday. My copy is waiting for me at The Novel Neighbor. But I'm not allowing myself to pick it up until I meet my editor's revision deadline. Once I do, clear the decks and leave me alone. I'll be reading about Avery, her sister, the four Hawthorne grandsons, the games, and all those billions.
Click icon for more
book review blogs
@Barrie Summy