It seems I am incapable of writing a conventional book review. Feel free to pelt me with marshmallows. We'll make s'mores.
(Or we'll do this.)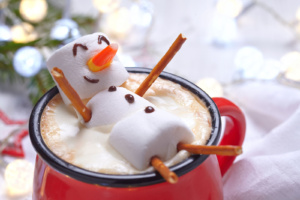 Case in point: this month for Barrie Summy's Book Review Club, not only am I breaking form by focusing on the reason for my selections, I am a). abandoning the traditional one-book review; and b). drumming up new enthusiasm for older titles. Let's get started, shall we?
For what seems like forever, or maybe just 30 years, I've had parts and pieces of a story I've wanted to tell. I wrote one version which was widely and justifiably rejected (ah, you 29 smart editors and agents!). It had potential, but it was seriously boring. Not long ago, though, here's what smacked me in the brain: at the core of this story lay/lie/laid/was some universality that, when paired with several new elements, might actually have life.
Except.
Except one of those elements? Humor.
Although I may write a funny line or set up a slightly off-beat circumstance, I've never been accused of writing full-on humorous novels. But I want to. That's why I designed a crash course for myself; reading widely from an old and new library of humorous middle grade books, really studying them. Today, I bring you my thoughts on 5 or 7 (count them as you prefer) selections, or approximately 17% of the books on my syllabus. I hope you find some laughs here. I definitely did.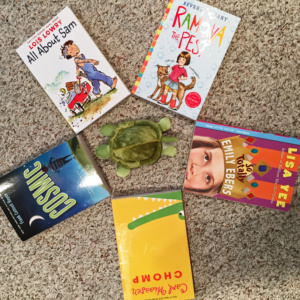 All About Sam by Lois Lowry. (Houghton Mifflin Harcourt, 1988.) Told from the point of view of Anastasia Krupnik's brother, starting with the moment he was born. Think Amelia Bedelia, baby version. (Just ignore the fact that Sam is not brought home from the hospital in a carseat.) In addition to having great appeal to elementary school readers, this is a perfect read-out-loud book for pre-schoolers on up who are about to have a new brother or sister. Most of the humor comes from Sam's unique point of view. And clever writing.
Ramona the Pest by Beverly Cleary. (HarperCollins, 1968.) Ramona Quimby, in her first time as the star of her own book, (we first see her in Beezus and Ramona), is utterly charming as she starts kindergarten. She's the girl who likes to boing! Susan's curls and chase Davy so she can kiss him. Nearly 50 years old, this book has that universality that keeps it on the shelves. Its humor comes through a spirited main character who isn't trying to be funny, but just is. And from clever writing.
Millicent Min, Girl Genius; Stanford Wong Flunks Big-Time; So Totally Emily Ebers by Lisa Yee. (Scholastic; respectively, 2003, 2005, 2007.) I've long loved this trilogy – or technically, these three companion books – for making me think differently about secondary characters. For many pre-published years, I didn't take enough time or care to imagine the other characters' lives outside the main character's story. Together, these books inhabit the same time frame and give us three different experiences through the points of view of three vastly different kids: a child prodigy (1) who is asked to tutor a basketball player (2) and feels the need to hide her intelligence from (3) a new girl, who is working through her parents' divorce. The humor in these books comes through the distinct personalities of the characters. And from clever writing.
Chomp by Carl Hiassen. (Alfred A. Knopf, 2012). Take a family of Everglades animal wranglers, mix in an out-of-shape, faking-it, TV-star survivalist, a mass amount of animal teeth, and grave danger from both the elements and from a whole separate threatening character; throw them all in one book and watch what happens. The humor comes from just-this-side-of-outrageous, but strangely believable, characters and situations. (How did he do that?) And clever writing. Although this is middle grade, its appeal can skew much older.
Cosmic by Frank Cottrell Boyce. (Walden Pond Press, 2008). Loved it. Love, love, loved it. I didn't think I would. A kid, Liam, shuttling through the vastness of outer space with no way back? How do you make that funny? It starts with the author skillfully leading us to fully believe that we could very well mistake a tall (with beard-growing ability) 12 year old for an adult. And it launches from there. Brilliantly. Like Chomp, this middle grade book also has appeal for older readers. The humor comes from Liam's voice, plausible miscommunication, and a ridiculous situation that somehow feels believable. And clever writing. (Do you see a common thread here?)
If you'd like the full list of humorous middle grade books I hope to devour, either email me (hit Contact at the top) or leave me a comment (click here to comment if comment section is not visible). Happy laughs!
Click icon for more
book review blogs
@Barrie Summy