It was late February this year when I decided to give a book to each kiddo, age 5 through late teens, who'd be coming to a family gathering. The plan was to return from a mid-March getaway and spend a day in the bookstore, going wild, picking out just the right titles. (Then I'd read them – carefully turning the pages – before I gave them away.)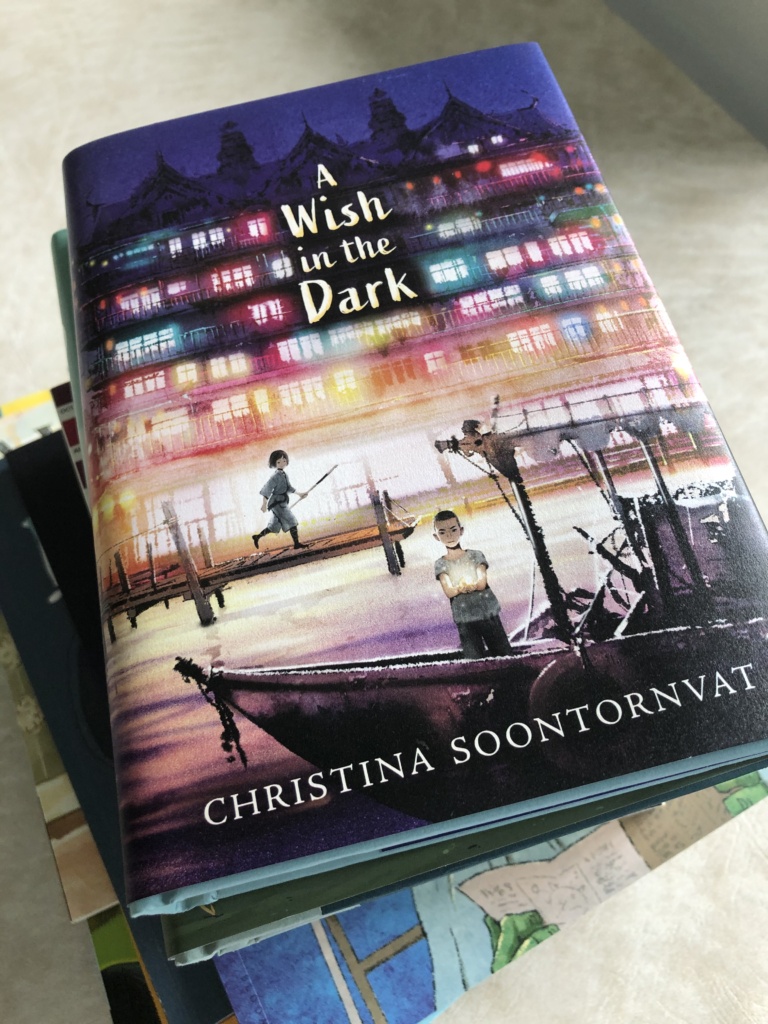 We all know what happened to 2/3 of that plan. The gathering was canceled, the in-store visit didn't happen, but I could still buy the books. I asked my friends at my nearest indie, The Novel Neighbor, if they'd do my shopping. And that's how I came to read A Wish in the Dark (Candlewick Press, 2020) by Christina Soontornvat. Without bookseller Melissa Posten picking this middle-grade out for me, I might never have noticed it on my own. (Those booksellers are amazing, right?)
Bottom line, A Wish in the Dark is one of the most compelling books I've read in years.
Part fantasy, part thriller, and all heart, this riff on Les Miserables is the story of the orphan Pong, who pulls off an escape from Namwon prison. Born to an inmate there, which literally marks him forever, he ventures into the world all alone, trying to carve out a new, and perhaps impossible, life. In pursuit of him is Nok, the warden's daughter, looking to restore the dignity of her family, which was marred by the disgraceful escape. Set in a Thai-inspired world, where light is owned by one man, Pong's journey takes on desperate twists and dangerous turns in a struggle for justice, not just for himself, but for all the marginalized people living in this society.
A Wish in the Dark is the type of book I'd normally race through to the ending, but I so loved living in this story – rooting for Pong and his allies as the necessary confrontation drew closer – it took me double-time to savor every chapter, every scene, every page.
There have been few silver linings during this pandemic, but I'll always count A Wish in the Dark, both the book and the bookseller who brought it to me, as one of them. It was the perfect escape as we wish for brighter times.
Click icon for more
book review blogs
@Barrie Summy