Welcome to a book review in three parts. Part One concerns the reason why I even chose to read this book. Part Two introduces my skepticism about this choice. Part Three finally tells you what I think about it. Enjoy the backstory; enjoy the book.
PART ONE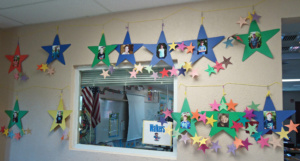 Travel to Florida with me, about 6 years ago. I was invited for an incredible week of school visits, to date still one of my best experiences. The Gollywhopper Games had been chosen for the Sunshine State Readers list, and I was making the rounds. Toward the end of the week, one of the librarians showed me this wall outside her school's cafeteria. Students who'd read books on the list had their pictures, along with the books they'd read (more added as necessary), posted on that wall.
The librarian invited me to join them in their reading journey. A bit exhausted and overwhelmed by this wonderful week, also wanting to be a good sport, I said, "Sure. I'll join your Superstar wall." When it hit me that I'd committed to reading 15 MG books, many of which I had little interest in reading, I sort of regretted it. But I have this strange habit of honoring my commitments.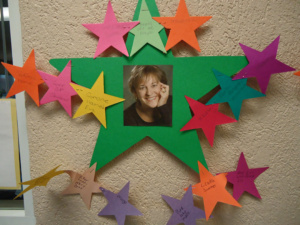 It was one of the best blurted-out agreements I'd ever made. Even though the genres and/or subjects in a number of these books fell outside my personal preferences, this turned out to be a truly great reading experience.
PART TWO
Remembering how wonderful it was being a Superstar that year; also struggling with choosing which books to read next (so many books, so little time), I decided to do what I'd been threatening ever since Florida. I promised myself I'd make it through the entire Mark Twain List from my state of Missouri.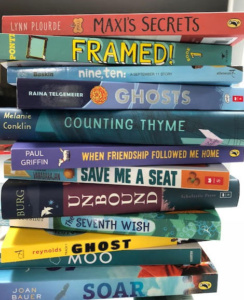 I bought the full stack, now on its way to a school on the other side of the state (if you're a teacher/librarian you may want to periodically check @jodyfeldman on Twitter for future giveaways). Then I looked at what I'd gotten myself into. Specifically, two books with dogs on the cover.
Understand, I am a huge fan of Gordon Korman's No More Dead Dogs because I utterly identify with the main character. When I was in school, yearly it seemed, I suffered through assigned dead-animal books; Rascal, The Yearling, Sounder — and my brain has chosen to forget the rest — but I wasn't about to let a few hours of reading stop me.
PART THREE
Maxi's Secret (Or, What You Can Learn From a Dog) by Lynn Plourde.
This is a book where the dog dies. That's not a spoiler. Here are the first two lines:
Let's get this part over with – it's not secret.
My dog, Maxi, dies.
There's a bit of brilliance in that opening. It reminded me of one of my favorite adult books, Bel Canto by Ann Patchett, which reveals early on that the hostages are eventually released unharmed. It works because you can read the book,  appreciating the characters and circumstances and nuances without worrying about the eventuality of it all. Similarly, in Maxi's Secrets, it's more a story of how this big, bouncy, white dog changes so many lives in so many ways.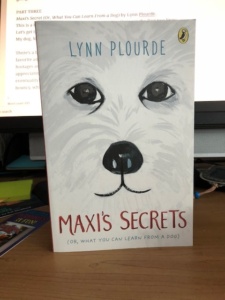 Timminy's family has just moved to a new town which means a new middle school. Problem one, Timminy is short, really short, which makes him a bully target. To help him ease in, his parents agree to get him a dog. The lovable puppy he falls in love with happens to, well, let me quote the flap copy: "When Timminy discovers Maxi is deaf, he is determined to help her—after all, his parents didn't return him because he was a runt." And so he does, with the help of neighbor Abby, who is blind.
Seriously. That all sounds terrible and depressing: blindness, deafness, shortness, death. Turns out, this is a truly funny, hopeful, inspiring, riveting read. And that's exactly why I've decided to keep reading the entirety of one State List every year. You never know what gems you may find.
Click icon for more
book review blogs
@Barrie Summy